Shinjuku Hyakunin Cho, an exciting town evolving in its history.
The unique name Hyakunin-Cho derives from the historical fact that, in the Edo era, there was a residence for a guard unit which consisted of 100 gun-shooter Iga warriors. After the war, Shinjuku area developed into a source of vogue with young people performing folk music and jazz in the live houses. Lately, this area has been evolving into an energetic town with its multinational peoples as is a sign of globalization.
HUNDRED STAY is located in the most convenient area of Tokyo. It is all within a few minutes access: a 15-minute walk to Shinjuku Stations of JR line and other local lines which dispose 3.5 million passengers a day, the largest number of train-commuters in Japan, and also to Tokyo Metropolitan Government Office as well as to the business district with its skyscrapers. Furthermore, a 3-minute walk to Okubo Station on JR Chuo Sobu Line and an 8-minute walk to Shin Okubo Station on JR Yamanote Line. While it is situated in the ideal location, it is surrounded by good old shopping centers and the largest entertainment center of Japan. The town has many enchanting faces of Tokyo with full of charms.
Enjoy the excitement and energy of the town while staying at HUNDRED STAY.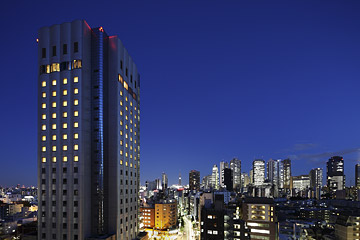 Convenient surroundings for long staying guest.
Shopping: from articles for daily use to big-name brands
In the building of JR Shinjuku Station and its vicinity, there is a great variety of attractive shops that present the latest information and topics: from well-known department stores, big-name brand stores, and discount fashion shops to mass electronics retailers and large bookstores. Enjoy shopping for yourself or to look for souvenirs. Also, in the hotel vicinity, there stand a number of convenient and homely shops that handle articles for daily use. Enjoy a sense of friendly locality with shop attendants differing from shopping in Shinjuku.
Meal: from daily dining to exclusive dinner
Kabuki-Cho representing as a center of Shinjuku area has a variety of Japanese and international restaurants. In "Shin Okubo" town near the hotel plays the leading role of ethnic fad and holds the largest Korean Town of Kanto area. The Asian restaurants serving Korean as main, Chinese, Philippine, Thai, Myanmar, etc. attract diners from all over Japan.
You can enjoy an exotic atmosphere surrounded by all different languages spoken. You will never get tired in abundant selections to choose from.
Entertainment: a great variety of entertainment in Shinjuku
Shinjuku area is concentrated with universities, hospitals, major government offices, and enterprises as well as a lot of movie theaters, the Globe Tokyo, Opera City Concert Hall, and art museums in the skyscrapers. A great number of people are attracted to the various performances, events, and exhibitions that are held there regularly. It will be a refreshing break to visit them during your stay on business or sightseeing.
Nature: town built in the nature
The hotel vicinity was once called "Musashino" with its blessed nature. Even today, if you go off the main streets, you can still find the traces of bygones here and there. The well-kept parks like Shinjuku Chuo Park, Shinjuku Gyoen, and Toyama Park as well as other smaller parks and river banks are relaxing places for a walk and jogging.
Public Services and Hospitals: services necessary for emergency and assurance
Okubo area, the heart of Shinjuku, is centered with various public facilities and hospitals. Within walking distance of HUNDRED STAY Tokyo Shinjuku, there are general hospitals, post offices, libraries, fire stations as well as Toyama Park and sports centers, all of which give our long-stay guests a feeling of security.
Area map