HUNDRED STAY Tokyo Shinjuku was originally designed to accommodate long-term stays. Facilities and services include those found at hotels, such as 24HR front desk and gym, but also offers kitchen and washing machines in the apartments, unlike hotels, for long-term stays. The larger 1 Bedroom and 2 Bedroom apartments are suitable for families and groups to stay together, negating the need to book several rooms that split families apart on vacation.We have created 3 examples from recent guests to help illustrate our concept.
A base for business trips in Tokyo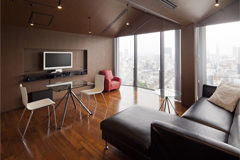 "I have a 10-day business trip to Tokyo once every six months.
I had tried business hotels of all different sorts, but was never satisfied with any of them.
Then a friend of mine advised me to try the HUNDRED STAY, so I did.
I found out that the spacious rooms there could be used as an office of my own!
It was exactly what I had wanted, and since then, HUNDRED STAY has become my favorite place for business trips."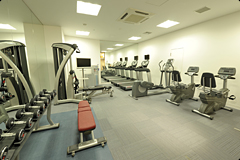 "When the day's work is over, it is my daily routine to refresh myself in the Fitness Center at HUNDRED STAY.
While working on various exercises in sweat, I can feel that my face and body gradually get restored and refreshed.
It is strange, but even new ideas for my business pop up at times like this."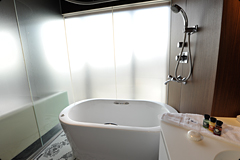 "The first thing I do when I wake up in the morning is to take a fresh shower as a morning ritual to really wake myself up.
The well-prepared toiletry of the hotel is like a morning spice for me. Gradually, my mode gears up to working mode to get ready for the day."

Traveling and staying with your friends is like sharing a home together.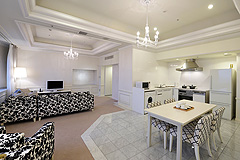 "I was traveling in Japan with four friends of mine.
We had planned to stay in Tokyo for 2 weeks and wanted to stay together for the whole time, so we asked for an apartment of 100 square meters at HUNDRED STAY."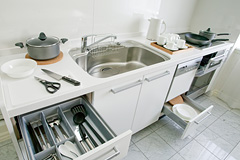 "When you're traveling, domestic chores like cooking and laundry can be difficult sometimes.
Also, if you eat out for every meal, your traveling funds fly away very quickly.
So, what we liked about HUNDRED STAY was that it was no different from living at home.
For example, not to mention a kitchen with cooking utensils and tableware, but also a laundry machine and even an iron were there ready for use."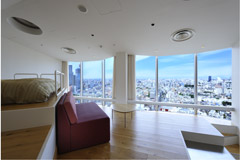 As you walk into the room, a grandeur panorama of Tokyo spreads out before you, that arouses excitement and joy within you.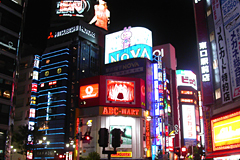 "Okubo" is where HUNDRED STAY Tokyo Shinjuku is located, which particularly has a multinational atmosphere.
It's like an Asian town in the center of "Cool" Tokyo. Shinjuku is just around the corner, too, only a few blocks away.

A month-long stay with your family.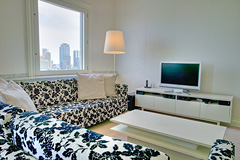 "My father was staying at HUNDRED STAY Tokyo Shinjuku on his long business trip.
On one summer vacation, our family decided to make a visit to him.
We all gathered in the living room and enjoyed chatting after a long separation."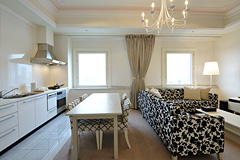 "We all looked forward to Mom's home-made dishes in the well-equipped kitchen.
There was no need to worry about the kitchen because all the necessary cooking utensils and tableware were ready for use.
All we needed was to buy some food in the supermarket downstairs in the same building, and the rest was left to Mom's super cooking."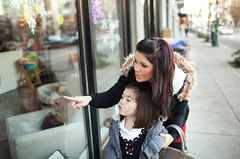 "We went for shopping on the weekends.
From Shinjuku, not only to Tokyo but also to various places in the vicinity of Kanto is within easy reach.
We all enjoyed shopping for the first time in a long time."